Event details
Osmani Centre, 58 Underwood Road, London E1 5AW

October 26, 2019

Saturday, 11AM to 5PM
Tickets details
£7
Early Bird Ticket 98 remaining
Book tickets
Creative Minds 2019 – Discover the relationship between Islam, Creativity and Mental Health
Osmani Centre, 58 Underwood Road, London E1 5AW
Saturday, 11AM to 5PM
October 26, 2019
Creative Minds 2019 – Discover the relationship between Islam, Creativity and Mental Health
Osmani Centre, 58 Underwood Road, London E1 5AW
Saturday, 11AM to 5PM
October 26, 2019
PRINT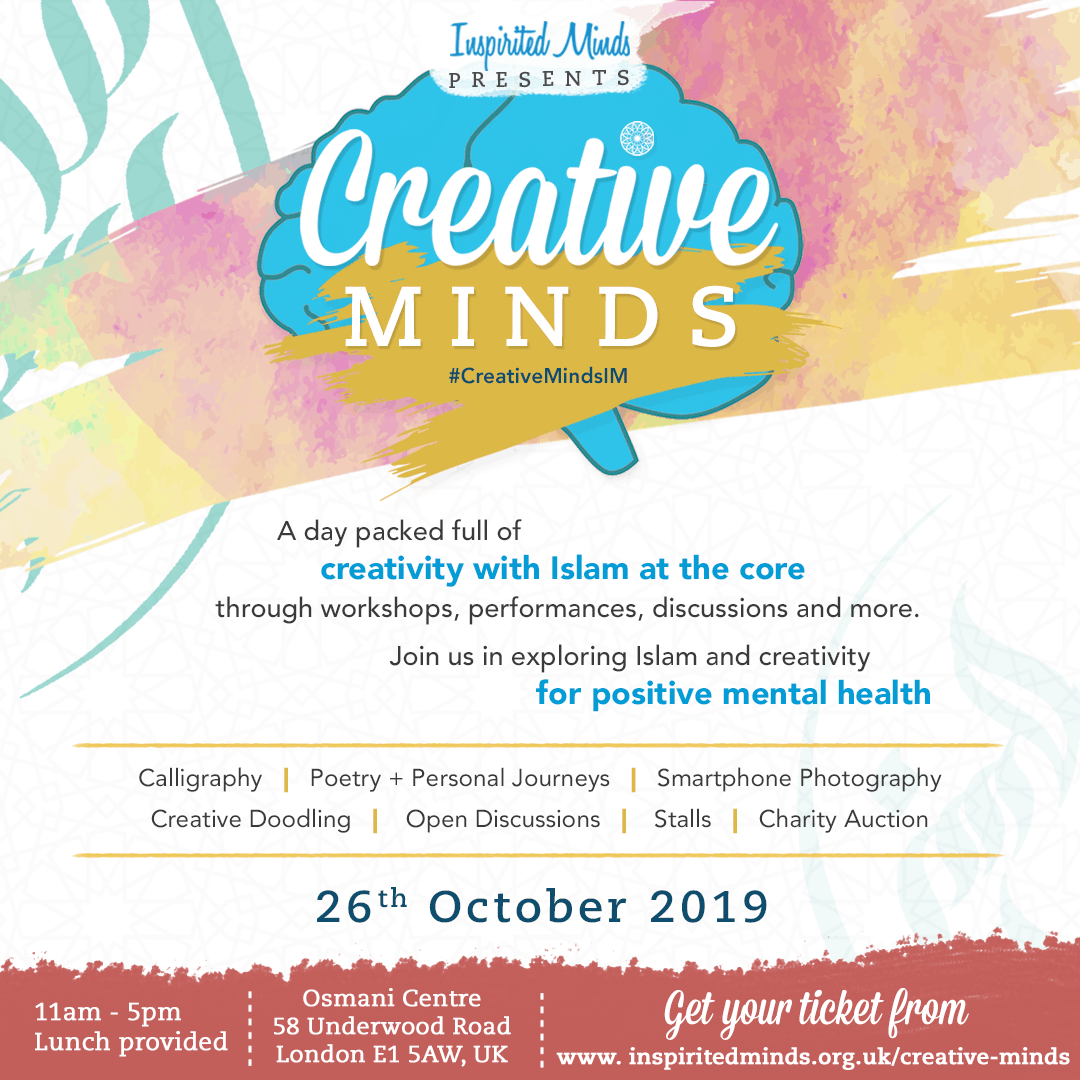 Event Details:
We all deal with our own mental health in different ways, and one of those ways is by being creative.
As Muslims, we often forget that creativity is threaded throughout our religion, and not just in arts and crafts as some would think. Allah constantly tells us to think outside the box, and encourages us to imagine the wonders He has waiting for us and reflect upon His unique words. Not to mention our rich and iconic history of geometry and architecture that currently colours the horizons of parts of Europe and the Middle East. From sunnah foods, breathing exercises, writing and more, we can apply this to how we express Islam and how we can use this natural ability to help with our mental health. We want to inspire and stimulate!
A day packed full of different means of creativity with Islam at the very core, through performances, workshops, real life experiences, and carefully selected supporting businesses, we are hoping that you will join us in this journey of exploring Islam and creativity as a means for boosting positive mental health.
What do we have in store for you?
Poets, talks and stories from:
Sihem Ziada
Sihem's poetry encompasses tackling one's emotions from within, and expressing vulnerability in the form of Poetry
Heretic
Wajid (stage name: Heretic Poetry) will be discussing his own journey of mental health through spoken word poetry, in a piece titled: 'Hope over the Horizon.'
Fathima Hameed
Fathima will be talking about her experiences with BiPolar, her road to recovery and how creativity had an impact on how she overcame and continues to overcome challenge. Looking for a real-life story and an inspiring experience? Join us at #CreativeMindsIM!
Workshops from:
Smartphone Photography by ISArts
The basic techniques of good photo-taking, by camera or smartphone.
Storytelling through photos including different types of images, and contexts
Have your own portrait taken as part of our #CreativeMindsIM campaign and learn to take your own!
Therapeutic journaling
Calligraphy
Doodling
Focusing on the 4 P's: Persistence, Prayer, Patience and Positivity. Doodling can be a fantastic way to relieve stress and to convey your emotions. We will focus on positive affirmations, expressing your faith and how it helps, and ways you can help manage your feelings. By the end of this light-hearted workshop, we hope that you can create positive reminders for yourself to refer back to.
Writing a spoken-word piece
Join us with Heretic, where he will be giving you the tools to write and perform a spoken-word piece using your imagination and creativity!
Lunch provided, please arrive 10 minutes early for registration. If you have any special dietary requirements or need more information, please email farhana.maleque@inspiritedminds.org.uk
2018 Reflections