Zoom Webinar

April 25, 2020

Saturday, 2:00PM to 3:30PM
Heartfulness & Mindfulness: Like The Prophet (SAW) – Muslim Minds: Covid19
Saturday, 2:00PM to 3:30PM
April 25, 2020
Heartfulness & Mindfulness: Like The Prophet (SAW) – Muslim Minds: Covid19
Saturday, 2:00PM to 3:30PM
April 25, 2020
PRINT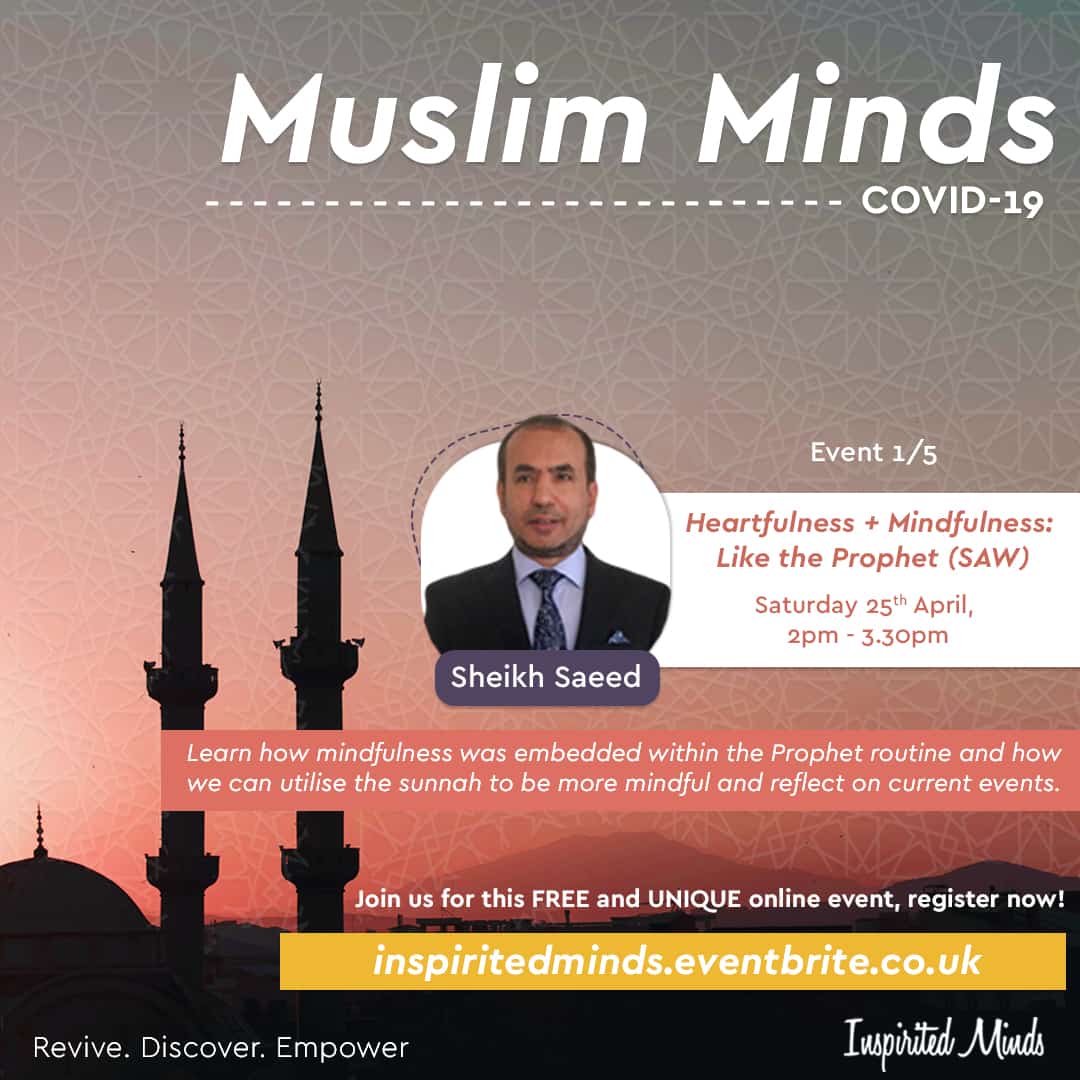 Muslim Minds: Covid19
Revive. Discover. Empower.
Join us to revive Prophetic traditions of coping during hardships and discover tools and resources from the Quran and Sunnah to empower us to manage our mental health.
Ramadan 2020 will be a unique Ramadan to experience. During these unprecedented times it is important to understand our mental health and be able to support ourselves and others. Inspirited Minds have come together with a wide range of speakers to put mental health first. In this programme of events we intend to bring you unique perspectives to enable you to understand the holistic relationship between Islam and mental health; equip you with the tools and resources to better manage your mental health, support others, practical tips and lifelong lessons, In Shaa Allah.
Join us for these FREE and UNIQUE online events, register now!
Heartfulness & Mindfulness: Like the Prophet Muhammad (SAW) with Sheikh Saeed Nasser
Saturday, 25th April, 2pm – 3.30pm
Learn about the concept of heartfulness, how mindfulness was embedded within the Prophet routine, and how we can utilise the sunnah to be more mindful and reflect on current events.
The Speaker
Saeed Nasser is committed to delivering client-centered counselling and supervision that supports the empowerment of individuals, couples and families to enable them to grow, make informed choices and fulfill their potential. His areas of expertise are person centered therapy, couple counselling, bereavement counselling and promoting a faith based and culturally sensitive approach to counselling and supervision. He is a registered member of the British Association for Counselling and Psychotherapy (BACP) and a fellow member of the International Association for Islamic Psychology (IAIP). Saeed Nasser also works as a volunteer imam in his local masjid leading prayers and delivers Friday sermons, lectures and parenting classes.