Zoom Webinar

February 28, 2021

Sunday, 11:00AM to 12:30PM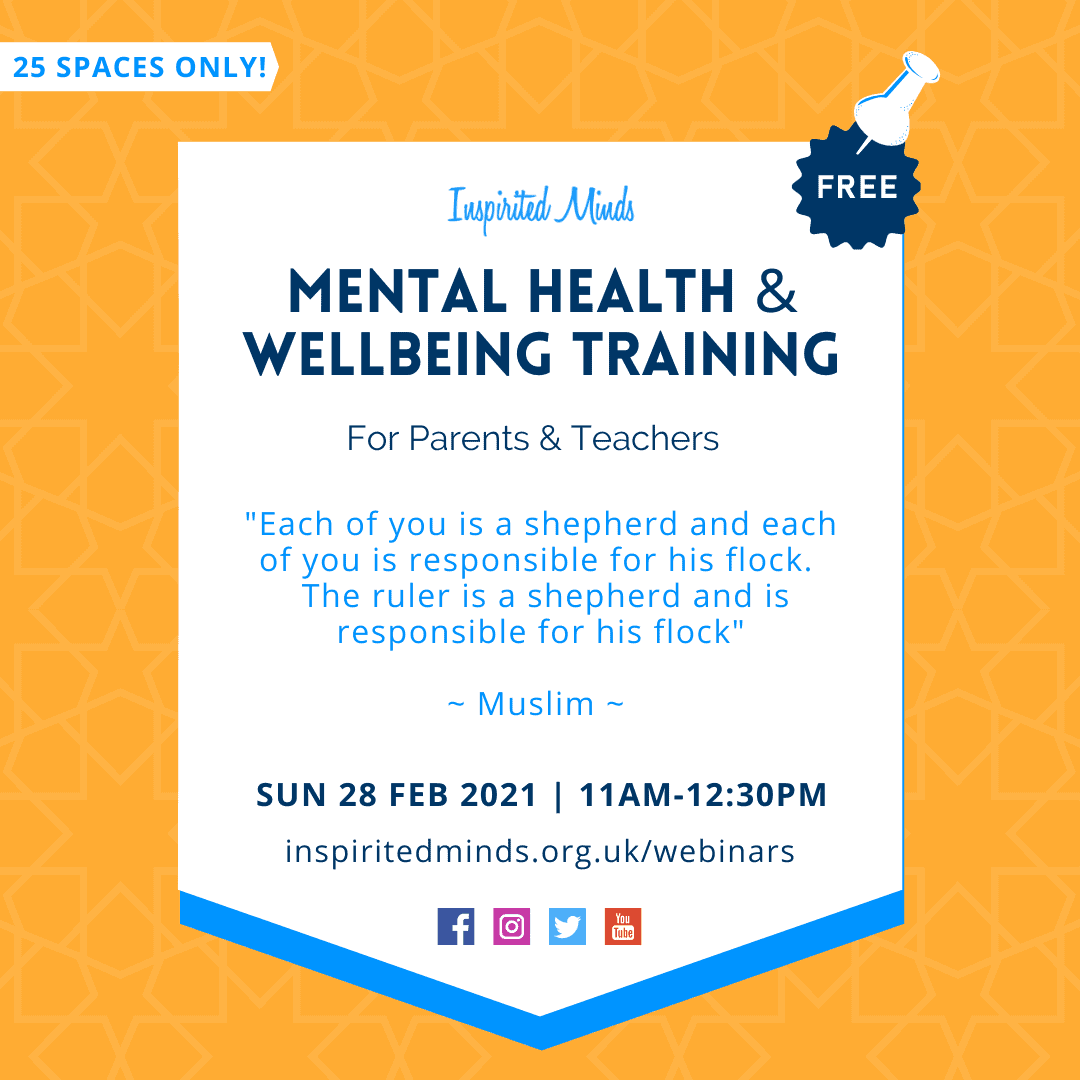 Mental Health & Wellbeing Training For Parents and Teachers
Improve your awareness and knowledge about mental health and learn ways to support your own mental wellbeing and those around you.
At the end of the course, attendees will be able to:
Have an understanding of what Mental Health and Wellbeing is from an Islamic perspective.
Be able to identify and recognise mental health difficulties.
Understand mental health issues in children and young people.
Understand why is it hard to talk to our children and to each other about mental health.
Develop active listening skills, empathy and reflection.
Learn how to ask children and young people open-ended questions.
Understand where to go for help and become aware of the services available.
Learn to better take care of yourself and manage stress.
Zoom pre-course information:
You must have a strong internet connection to enable interaction via the online format.
Access to a quiet area.
Ideally access to headphones with a microphone to exclude external noise interruption.
Target Audience:
Course Instructor:
Adisah is a BACP qualified counsellor who is also a key worker with NHS where she uses her skills to promote patient safety and recovery in the psychiatric ward. She provides person centred counselling as well as Islamic perspective counselling for people with mild to moderate mental health diagnosis. She has worked with reputable charities such as Place2be where she was the School Project Manager for a couple of schools. At this post she accomplished delivering the services and increasing access to psychological / emotional support for all pupil with increased access by BAME pupils. In working with her you can expect transparency, compassion and integrity and she also enjoys having a laugh and letting her kinky hair down.
For any other questions please contact webinars@inspiritedminds.org.uk
If you have any issues registering below please register directly on eventbrite – http://inspiritedminds.eventbrite.com