Zoom Webinar

2022-04-09 11:00 to 2022-04-10 13:00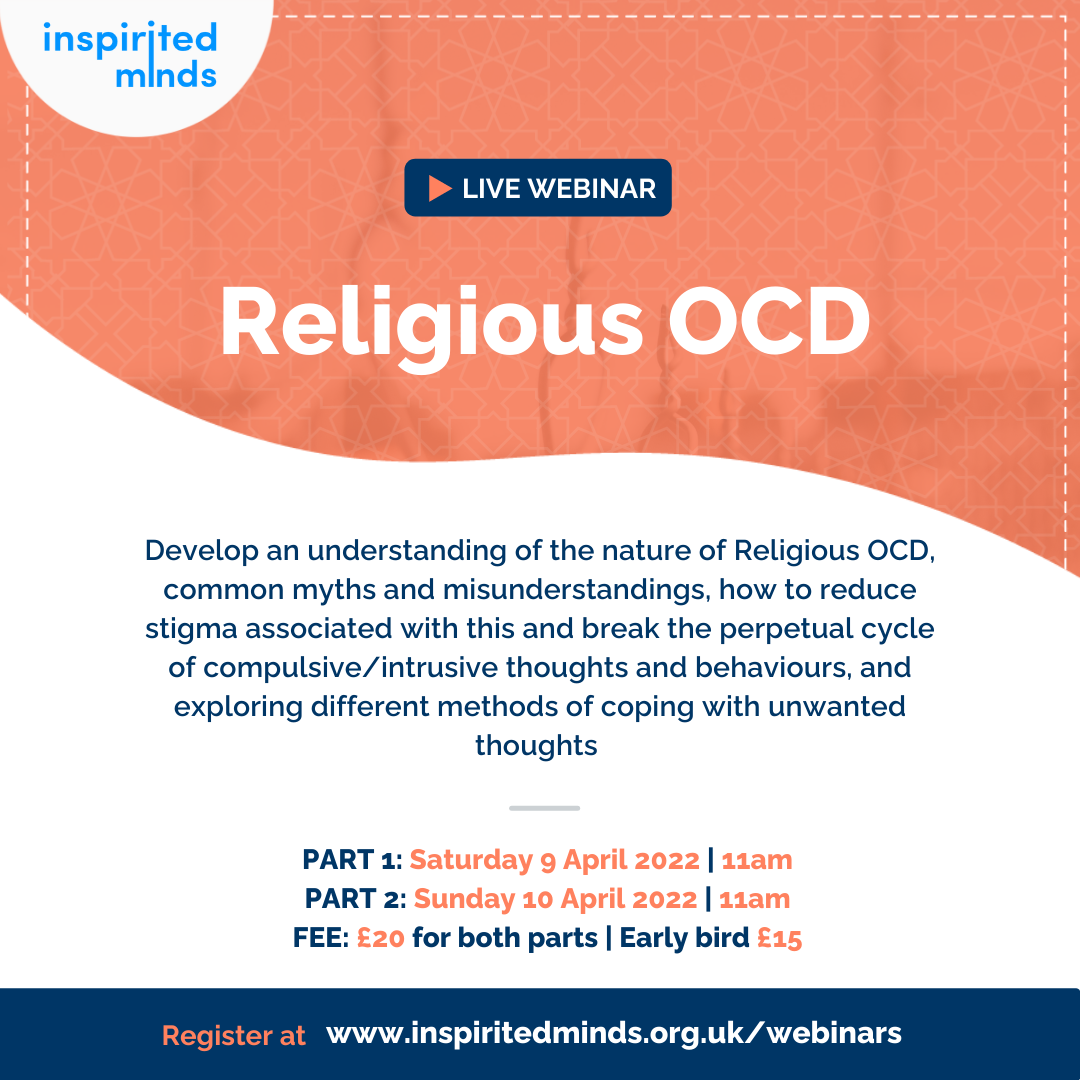 Religious OCD in the Muslim Community
This is a 2-part webinar series on Religious OCD within Muslim Communities. This series takes place for 4 hours across 2 days.
About this event
"Leave that which makes you doubt for that which does not make you doubt, for truth leads to reassurance and lies lead to uncertainty." [Tirmidhi]
Religious OCD, also known as Scrupulosity, is a subtype of OCD. However, just as OCD in general is massively misunderstood in our communities, Religious OCD has even less recognition and understanding.
The lines become blurred as Religious OCD is often misinterpreted for Waswasa (whispers of Shaytan) and thus perceived as nothing more than spiritual weakness. However, Religious OCD can be debilitating and without the right support and conversations, it could lead to harrowing experiences and distressing ways of living.
It is our social responsibility to ensure we speak and act with knowledge, can advocate for those struggling with Religious OCD and support ourselves and others when needed. By attending this webinar, you will be contributing towards the mission of improving the safety, mental health and wellbeing of the Ummah, In Shaa Allah!
You will also receive a certificate of attendance.
Dates and Times:
Part 1: Saturday, 9th April, 11am-1pm
Part 2: Sunday, 10th April, 11am-1pm
By attending Part 1 and Part 2 of this webinar, you will learn about:
The nature of Religious OCD including the obsessive compulsive nature behind intrusive thoughts.
The different types of Waswasaa, and the distinct differences to Religious OCD.
To identify how Religious OCD can often be misunderstood or justified as piety.
How to reduce the stigma associated to experiencing Religious OCD and breaking the cycle of compulsive behaviours and thoughts.
How to cope with unwanted thoughts, the different types of support available, how to help yourself and others around you.
We anticipate this webinar to be highly interactive through the use of regular group discussions and case studies.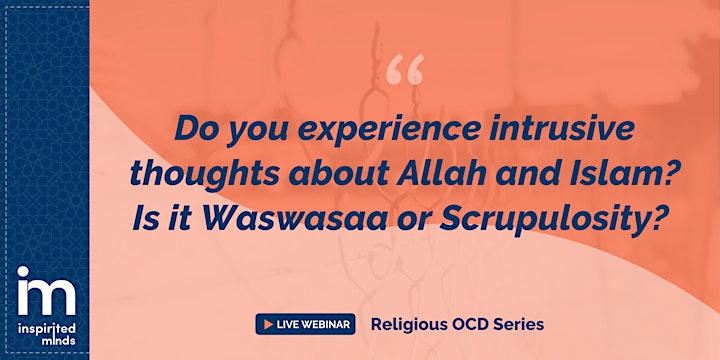 Disclaimer:
Due to the sensitive nature of the topic and the discussion of potentially triggering topics, we recommend individuals to only attend if they feel safe and well enough. Please note that we aim to have a member of our qualified support team present whom you will be able to contact via the chat box should you need any support during the webinars, however this is subject to their availability.
Important things to note before the sessions:
Please arrive at least 5 minutes prior to 11am GMT as we aim to have a prompt start.
This webinar has 2 parts and places are non-refundable, so please check that you can attend both sessions in advance of booking.
We highly encourage participants to attend both sessions and participate in as many discussions as possible in order to reap the full benefits of the webinar.
We are unfortunately **unable to provide partial refunds** in the event of participants missing one of the two sessions.
If you cannot afford a place on the webinar but would like to attend, please email outreach@inspiritedminds.org.uk so that we can offer a concession rate. Please be assured that this will remain anonymous to the workshop facilitator and will be handled with privacy.
The webinar sessions will take place via Zoom. Some interactions will be required via Slido so please have a smart phone or device handy, and Zoom chat box, should you wish to participate.
The Zoom link will be sent both 1 hour before and 10 minutes before each session. Please ensure you check your junk mail to ensure you do not miss this.
The training will be recorded for internal training purposes only and will not be made available to attendees.
We require the feedback form to be completed by all participants on both days in order to receive the slides and your respective certificate of attendance.
For any further questions or information, please email outreach@inspiritedminds.org.uk
.
If you have any issues registering below please register directly on eventbrite – http://inspiritedminds.eventbrite.com