Zoom Webinar

May 15, 2020

Friday, 7:45PM to 9:00PM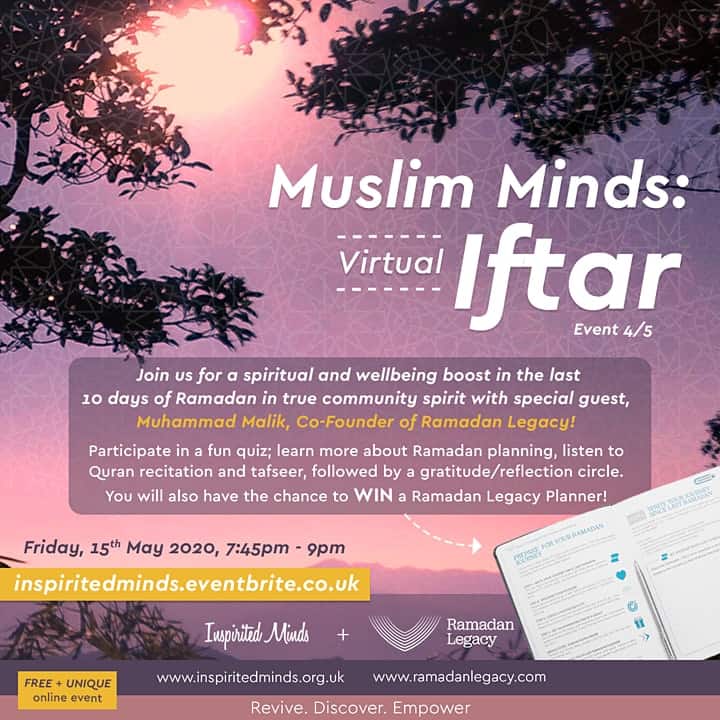 Muslim Minds: Covid19
Revive. Discover. Empower.
Join us to revive Prophetic traditions of coping during hardships and discover tools and resources from the Quran and Sunnah to empower us to manage our mental health.
Ramadan 2020 will be a unique Ramadan to experience. During these unprecedented times it is important to understand our mental health and be able to support ourselves and others. Inspirited Minds have come together with a wide range of speakers to put mental health first. In this programme of events we intend to bring you unique perspectives to enable you to understand the holistic relationship between Islam and mental health; equip you with the tools and resources to better manage your mental health, support others, practical tips and lifelong lessons, In Shaa Allah.
Join us for these FREE and UNIQUE online events, register now!
Virtual Iftar with The Community!
Friday 15th May, 7.45pm – 9pm
Join us for a spiritual and wellbeing boost in the last 10 days of Ramadan in true community spirit with special guest, Muhammad Malik, Co-Founder of Ramadan Legacy! Participate in a fun quiz; learn more about Ramadan planning, listen to Quran recitation and tafseer, followed by a gratitude/reflection circle. You will also have the chance to WIN a Ramadan Legacy Planner!
The Guest
Muhammad Malik is an ex-big 4 startup consultant, mindfulness coach and co-founder of Ramadan Legacy, an award-winning education company whose mission is to empower people to learn, love and live Ramadan. Ramdan Legacy achieves its mission through its interactive app, physical planner, and workshops, and through this we have enriched the lives of hundreds of thousands of Muslims around the world.