Zoom Webinar

May 9, 2020

Saturday, 2:00PM to 3:30PM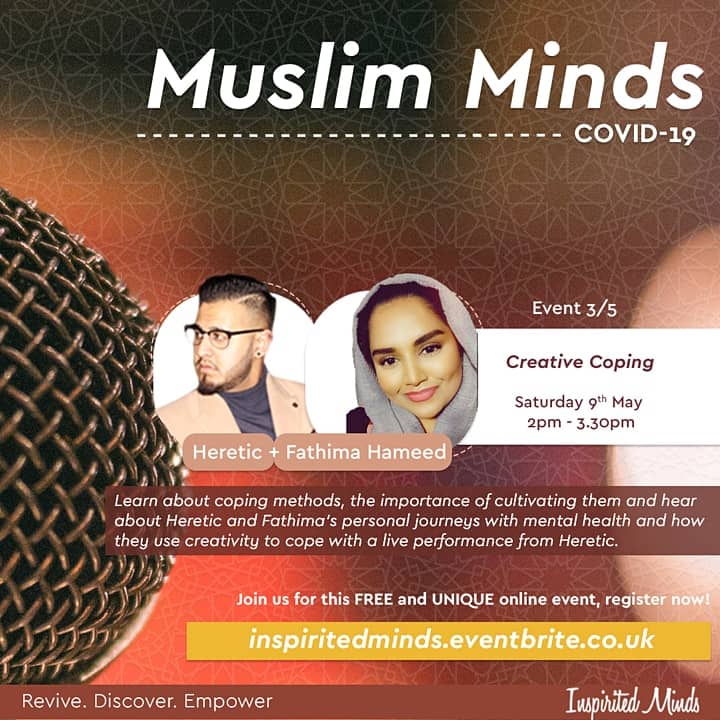 Muslim Minds: Covid19
Revive. Discover. Empower.
Join us to revive Prophetic traditions of coping during hardships and discover tools and resources from the Quran and Sunnah to empower us to manage our mental health.
Ramadan 2020 will be a unique Ramadan to experience. During these unprecedented times it is important to understand our mental health and be able to support ourselves and others. Inspirited Minds have come together with a wide range of speakers to put mental health first. In this programme of events we intend to bring you unique perspectives to enable you to understand the holistic relationship between Islam and mental health; equip you with the tools and resources to better manage your mental health, support others, practical tips and lifelong lessons, In Shaa Allah.
Join us for these FREE and UNIQUE online events, register now!
Creative Coping with Heretic & Fathima Hameed
Saturday, 9th May, 2pm – 3.30pm
Learn about coping methods, the importance of cultivating them, and hear about Heretic and Fathima's personal journeys with mental health and how they use creativity to cope with a live performance from Heretic.
The Speakers
Heretic is an individual who is passionate about mental health and creating awareness for it. He aims to create awareness around mental health but to also uplift those that are suffering.
Fathima is an Irish- Indian currently living in the UK, with a background in Biological Sciences. She has been on the road to recovery since 2017 after undergoing a period of mental health difficulties. She overcomes the challenges with her mental health by incorporating creativity and positivity in her recovery.