Zoom Webinar

May 2, 2020

Saturday, 2:00PM to 3:30PM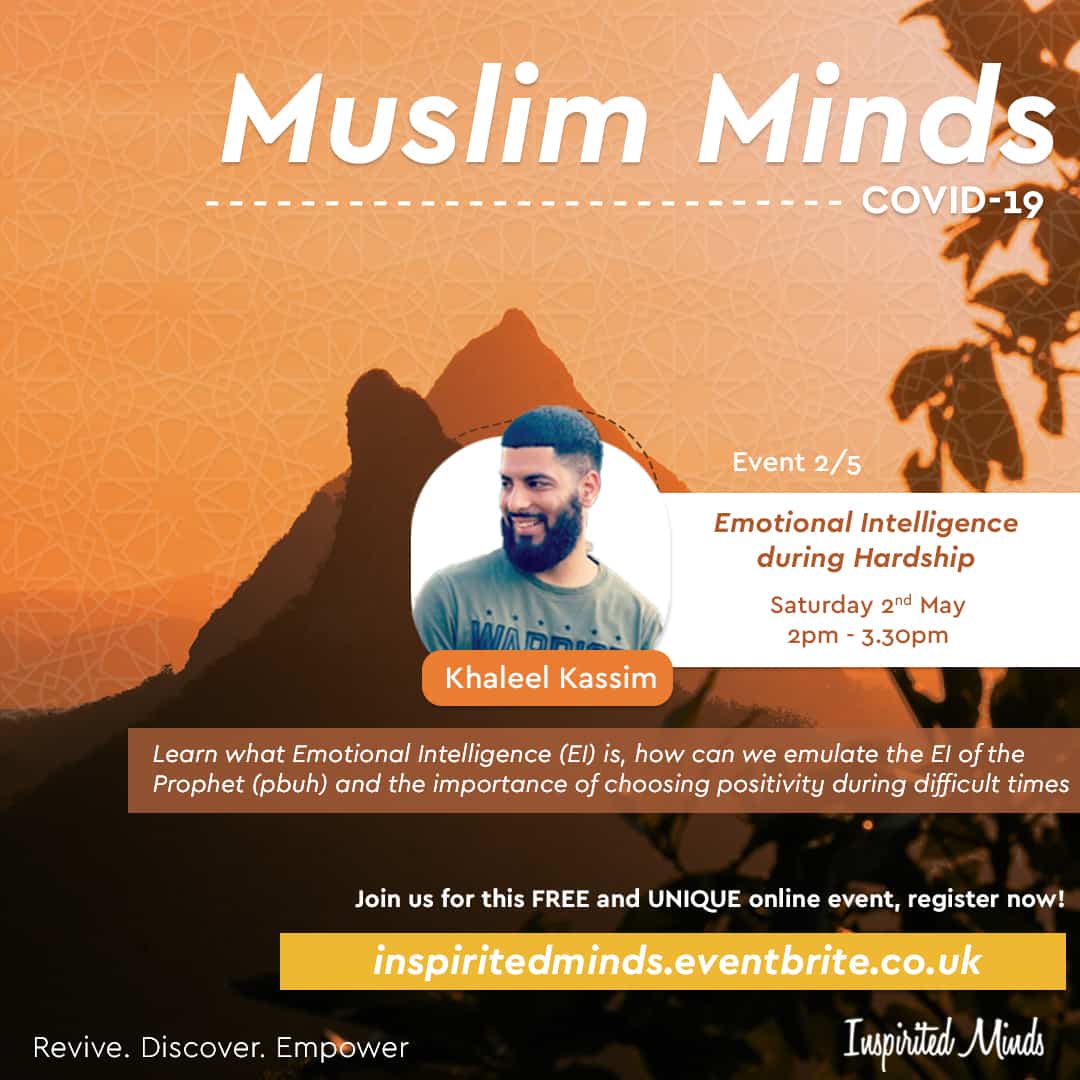 Muslim Minds: Covid19
Revive. Discover. Empower.
Join us to revive Prophetic traditions of coping during hardships and discover tools and resources from the Quran and Sunnah to empower us to manage our mental health.
Ramadan 2020 will be a unique Ramadan to experience. During these unprecedented times it is important to understand our mental health and be able to support ourselves and others. Inspirited Minds have come together with a wide range of speakers to put mental health first. In this programme of events we intend to bring you unique perspectives to enable you to understand the holistic relationship between Islam and mental health; equip you with the tools and resources to better manage your mental health, support others, practical tips and lifelong lessons, In Shaa Allah.
Join us for these FREE and UNIQUE online events, register now!
Emotional Intelligence during Hardship with Khaleel Kassim Founder of Eclectic House
Saturday 2nd May, 2pm – 3.30pm
Learn what Emotional Intelligence (EI) is, how can we emulate the EI of the Prophet (SAW) and the importance of choosing positivity during difficult times.
The Speaker
Khaleel Kassim is an International Islamic Counsellor and Therapist, a mental health consultant and life coach. Khaleel has an undergraduate in sociology and a masters in Psychological Wellbeing. He has just finished his university workshop tour titles "Islam & The Philosophy of Emotions". He is also the founder of Eclectic House, his private practice and is a regular public speaker for a wide range of topics and his own radio show during Ramadan on Eva FM Ramadan special 87.7.