Event details
Osmani Centre, 58 Underwood Road, London E1 5AW

October 26, 2019

Saturday, 11:00AM to 5:00PM
Tickets details
£10.00
Standard Ticket 78 remaining
£18.00
2 Ticket Discount 95 remaining
£24.00
3 Ticket Discount 100 remaining
£30.00
4 Ticket Discount 97 remaining
£7.00
Student Ticket Discount 90 remaining
Sorry, Event Passed
Creative Minds 2019 – Discover the relationship between Islam, Creativity and Mental Health
Osmani Centre, 58 Underwood Road, London E1 5AW
Saturday, 11:00AM to 5:00PM
October 26, 2019
Creative Minds 2019 – Discover the relationship between Islam, Creativity and Mental Health
Osmani Centre, 58 Underwood Road, London E1 5AW
Saturday, 11:00AM to 5:00PM
October 26, 2019
PRINT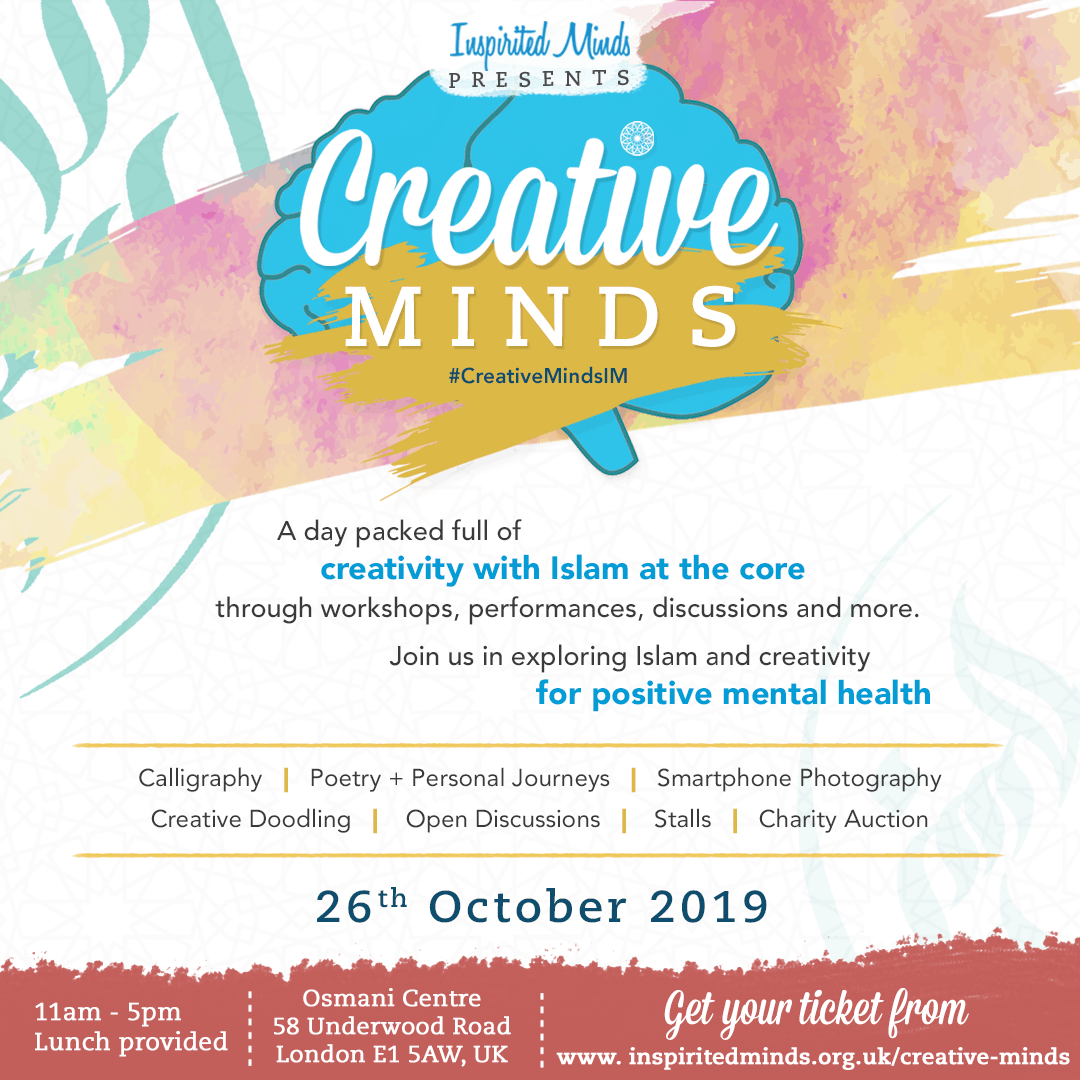 Creative Minds is back, bigger and better! Join us to discover and explore the relationship between Islam, Mental health and creativity.
Allah tells us throughout the Qur'an how wondrous His creation is and how unique each individual is, thus, which of the favors of your Lord will you deny?
Creativity is often confined to strict boxes within our communities, and not given the importance it deserves nor the vastness of it is shared. As unique individuals, we all manage our mental health in different ways, and to create and be creative can be one of those ways.
Whether you consider yourself creative or not, this event is promised to have something for everyone! You can hear about personal and exclusive creative journeys from individuals who have experienced mental health difficulties themselves, including performances and Islamic perspectives of creativity and mental health from experts in the field. You also have the chance to enrich yourself, expand your creative knowledge and learn a new skill by choosing from 5 different workshops taught by passionate professionals including smart phone photography, abstract calligraphy, Islamic doodling, spoken word and therapeutic journalling.
A day packed full of different means of creativity with Islam at the very core, an event not to be missed! Join us in this creative journey, book your tickets now, limited seats available!
If you are interested in holding a stall, please get in contact: farhana.maleque@inspiritedminds.org.uk
*Lunch and refreshments will be provided, please notify us if you have any allergies or intolerances.
What do we have in store for you?
Inspiring talks, personal stories and poetry from: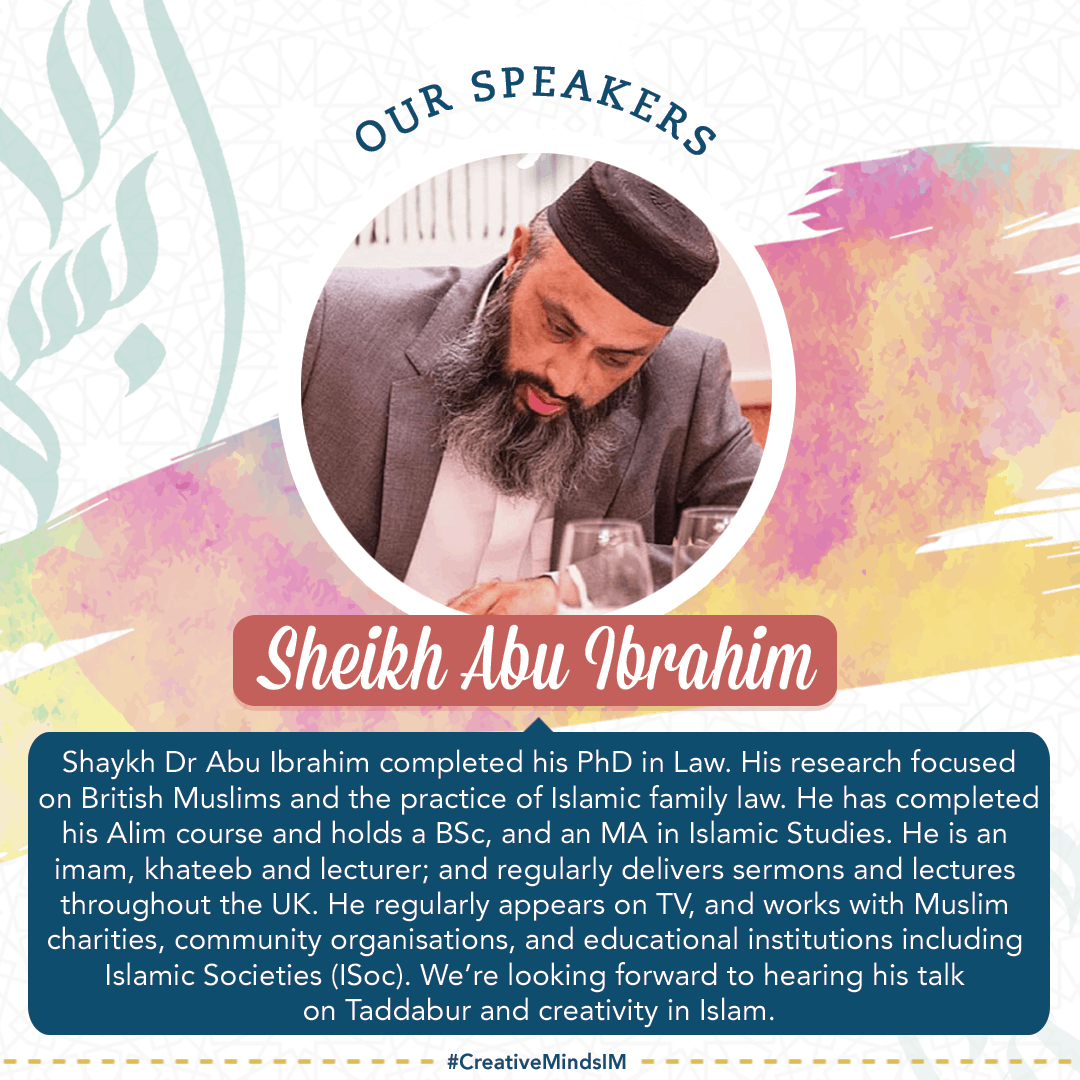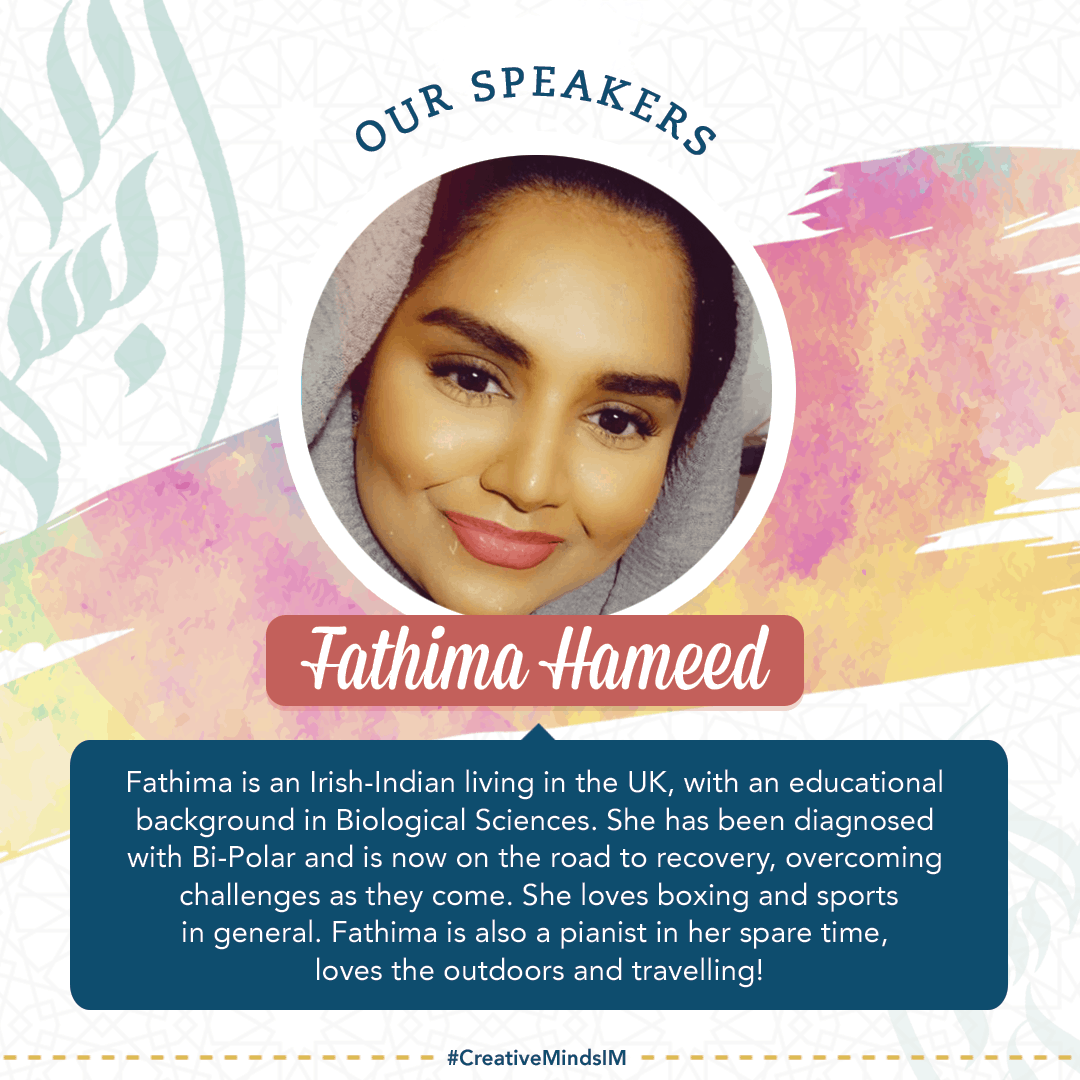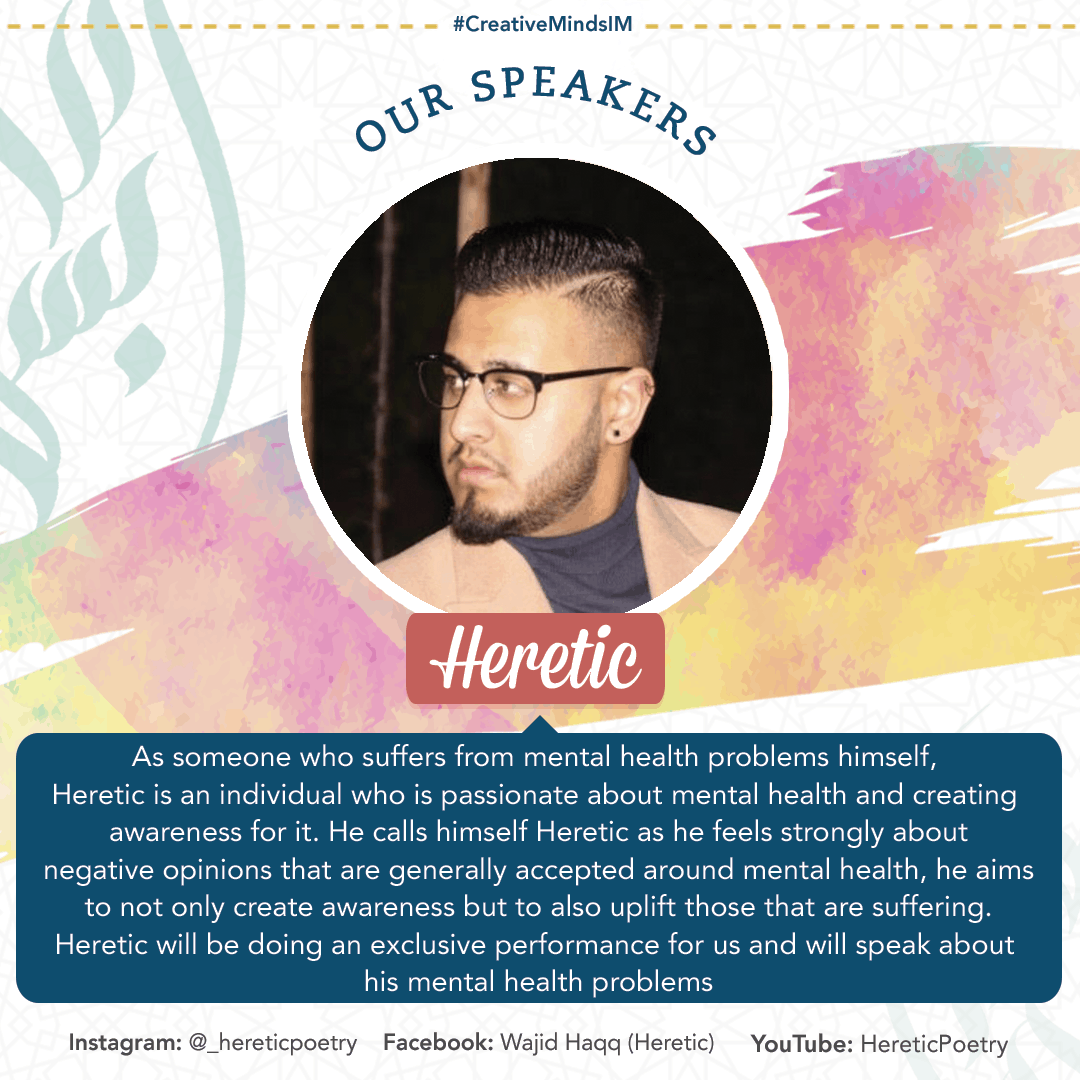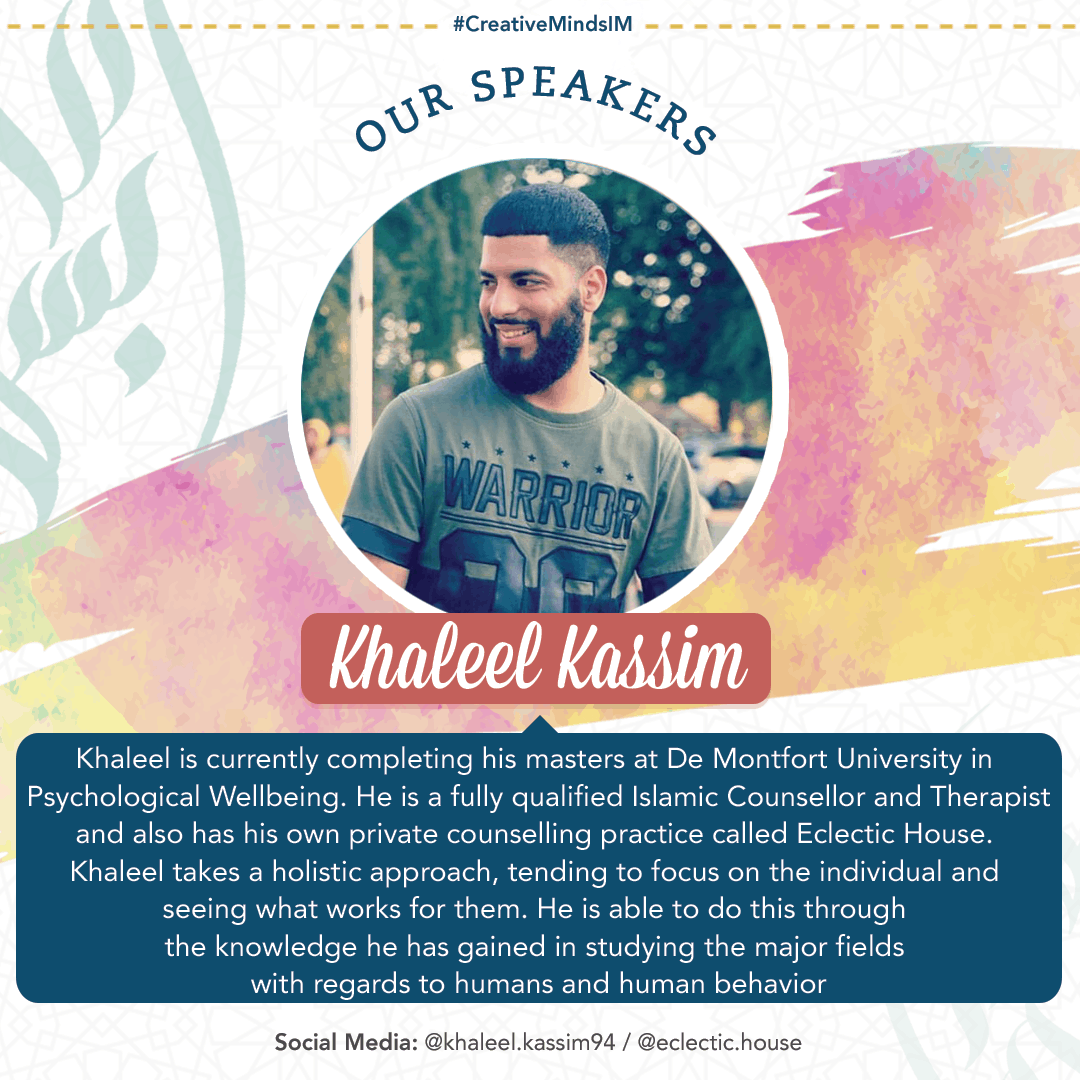 Workshops on: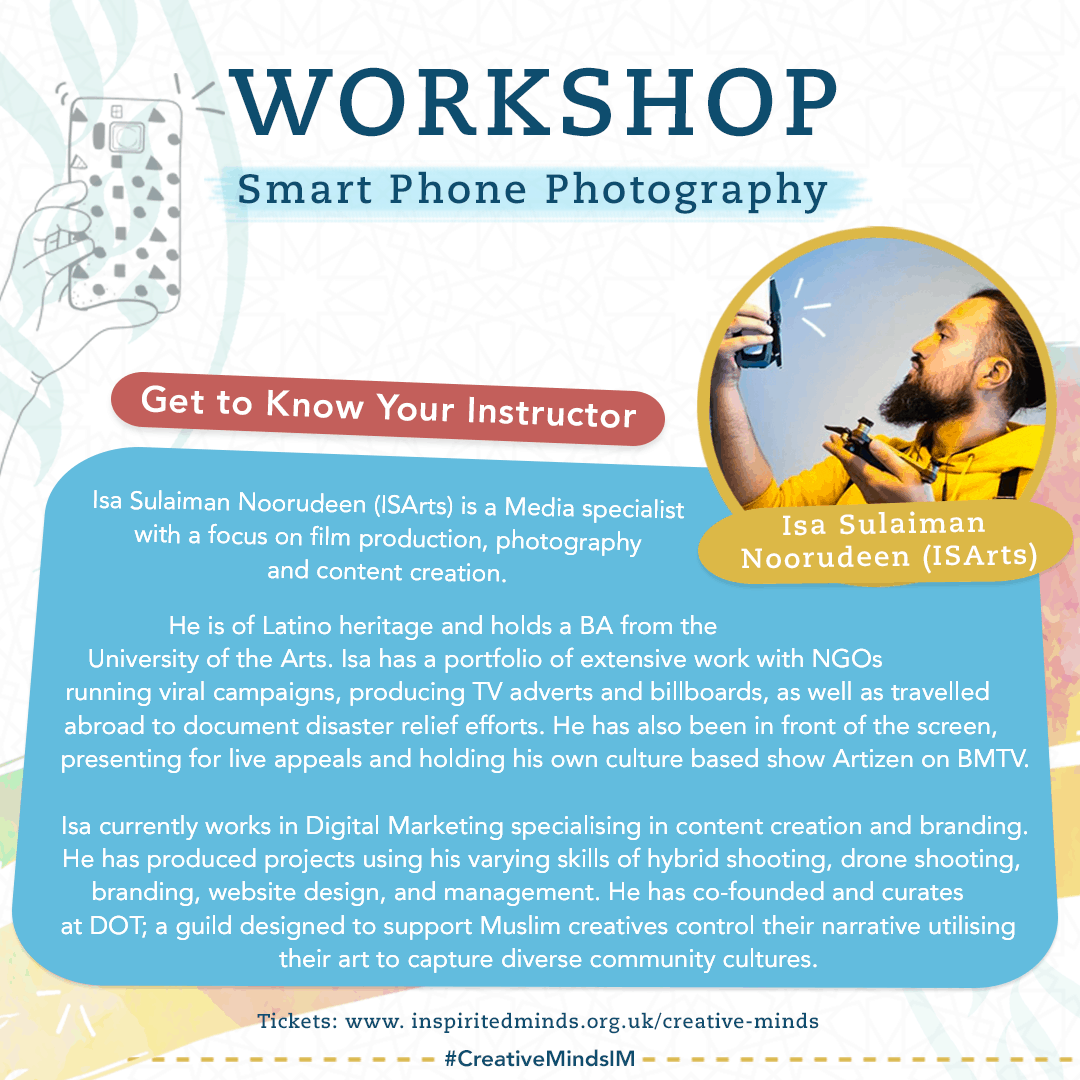 Smart Phone Photography
Covering the basics of good photo taking, by camera or smart phone; storytelling through photos including different types of images and contexts; have your own portrait taken as part of our #CreativeMindsIM campaign and learn to take your own.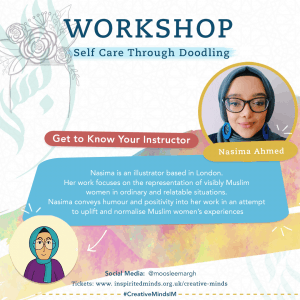 Self Care Through Doodling
Focusing on the 4 P's: Persistence, Prayer, Patience and Positivity. Doodling can be a fantastic way to relieve stress and to convey your emotions. We will focus on positive affirmations, expressing your faith and how it helps, and ways you can help manage your feelings. By the end of this light-hearted workshop we hope that you can create positive reminders for yourself to refer back to.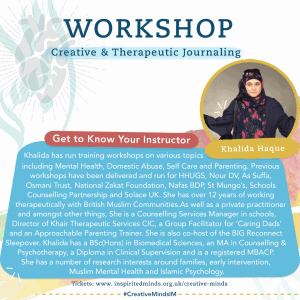 Creative & Therapeutic Journaling
Therapeutic Journaling is a reflective writing practice that focuses on an individual's internal processes and experiences bringing them mental and emotional clarity and a deeper understanding of themselves. Creative and artistic pursuits allow emotional and spiritual expression. In this workshop, Khalida will be encouraging and in unleashing their creative powers and prowess and also facilitating therapeutic writing. She asks you to give yourself permission to express yourselves through the medium of journaling. Come and learn about the importance of reflection and expression. You will also take away with you a journal, decorated by yourselves, ready for you to continue the journey within and through creativity and writing.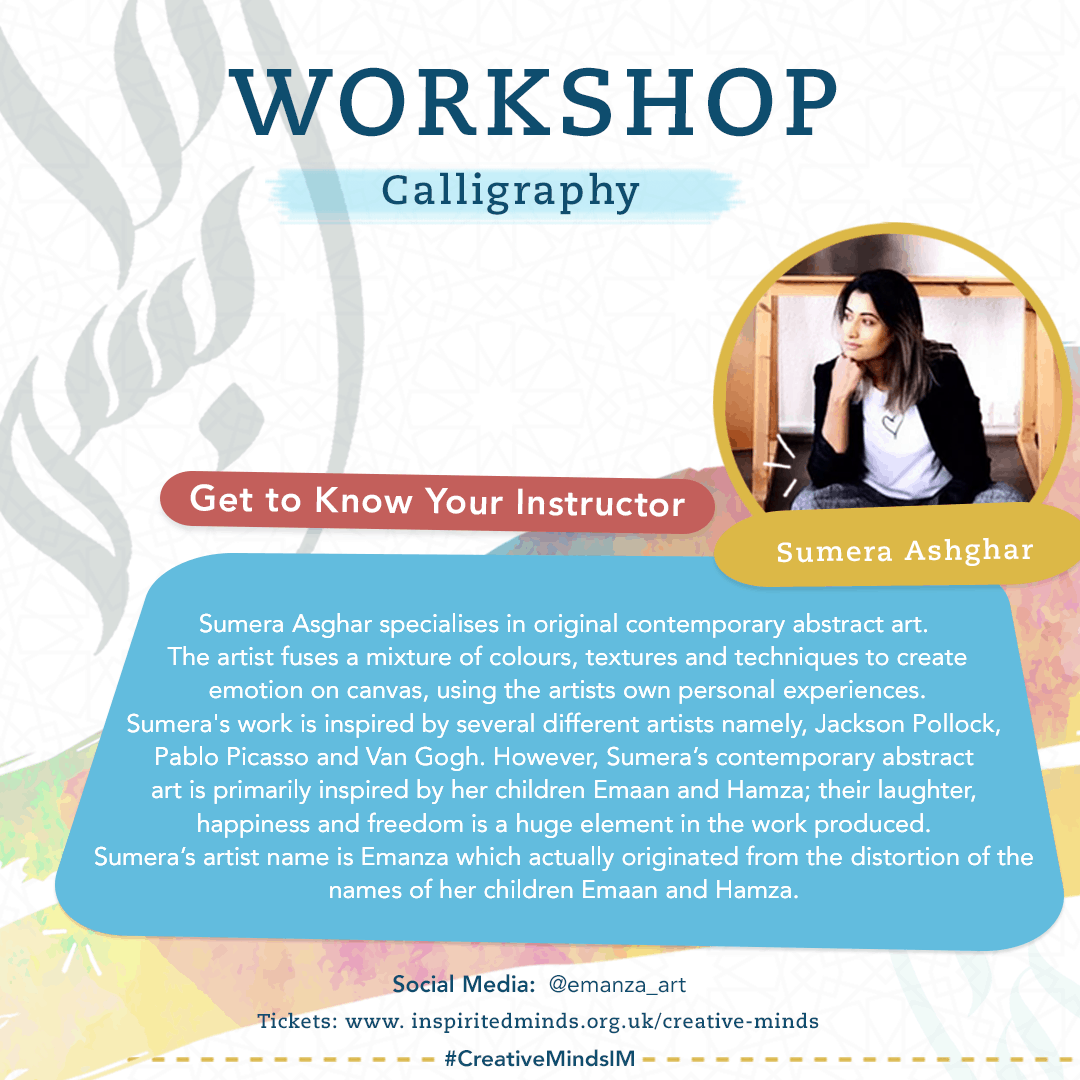 Calligraphy
Covering abstract calligraphy; abstract painting; the meaning behind creating abstract art and how painting helps with mental health issues like anxiety, depression and self-esteem.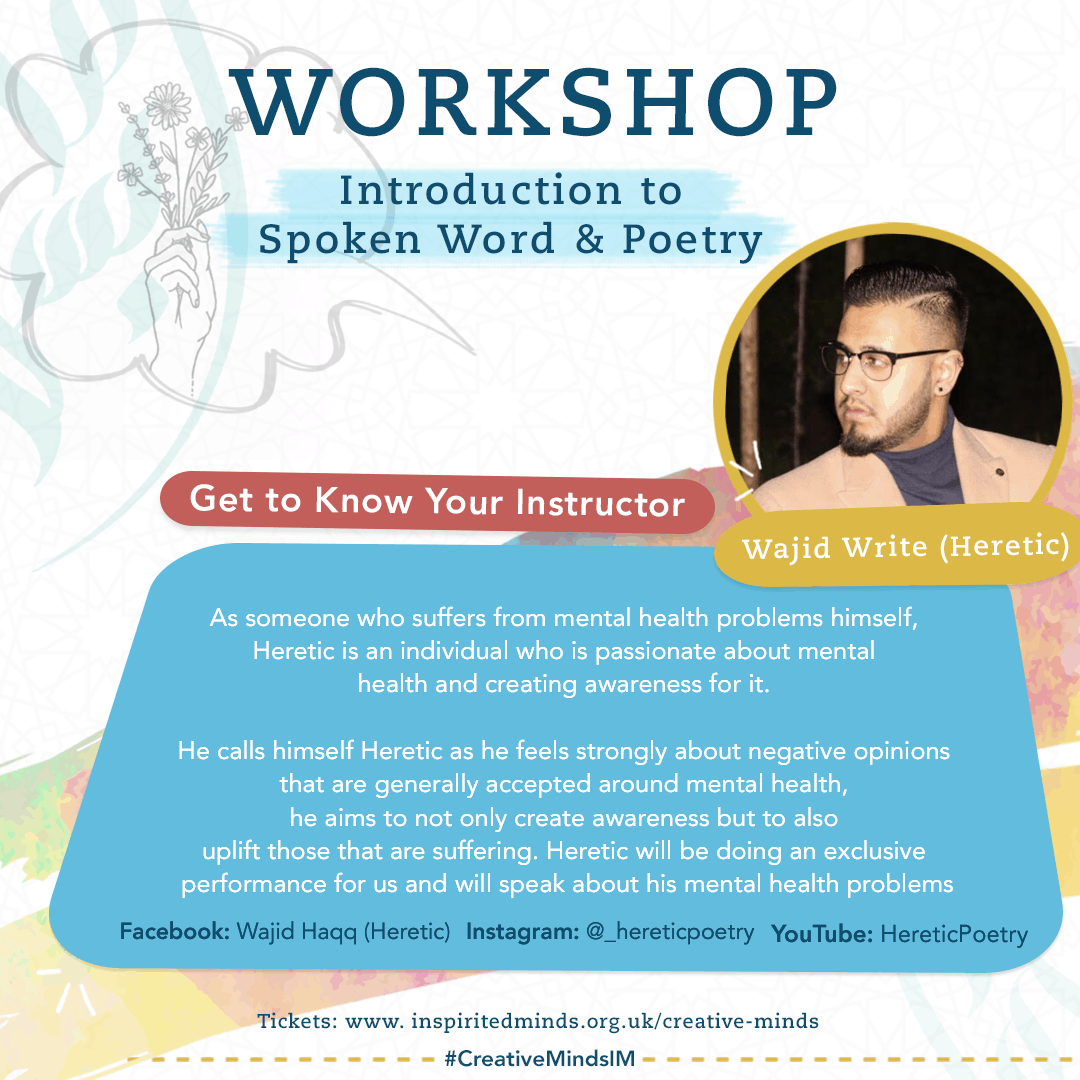 Introduction to Spoken Word & Poetry
Many of us struggle to speak our mind. Often we become frustrated and upset when we are unable to say what's on our mind. Spoken Word and Poetry is a form of creative art that solves that and allows you to get things off your chest in a healthy manner.
Watch our reflections from last year!