Event details
Greets Green Access Centre, West Bromwich, B70 9SJ

2019-11-16 10:00 to 2019-11-20 17:00
Tickets details
£300.00
Single Ticket 2 remaining
Islamic Approaches to Psychology and Psychotherapy
Greets Green Access Centre, West Bromwich, B70 9SJ
2019-11-16 10:00 to 2019-11-20 17:00
November 16, 2019
Islamic Approaches to Psychology and Psychotherapy
Greets Green Access Centre, West Bromwich, B70 9SJ
2019-11-16 10:00 to 2019-11-20 17:00
November 16, 2019
PRINT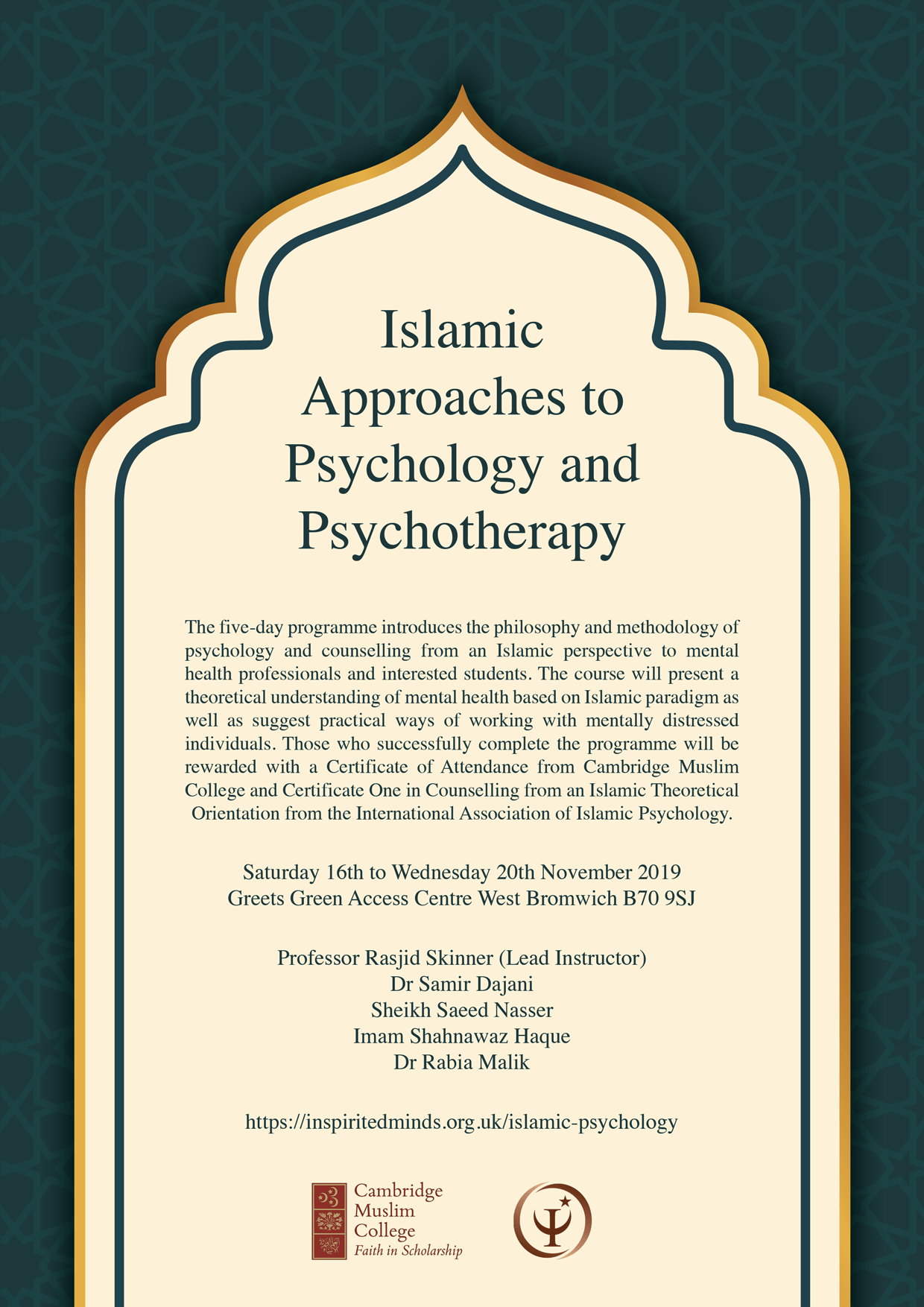 Programme Details:
The five-day programme introduces the philosophy and methodology of psychology and counselling from an Islamic perspective to mental health professionals and interested students. The course will present a theoretical understanding of mental health based on Islamic paradigm as well as suggest practical ways of working with mentally distressed individuals. Those who successfully complete the programme will be rewarded with a Certificate of Attendance from Cambridge Muslim College and Certificate One in Counselling from an Islamic Theoretical Orientation from the International Association of Islamic Psychology.
Programme Objectives:
Distinguish culturally relative factors from universal factors in Western psychology.
Identify and describe Islamic models of the self.
Describe the therapeutic relationship from an Islamic perspective.
Identify therapeutic aims and objectives of Islamic psychology/counselling.
Identify a range of Islamic perspectives on mental health diagnosis.
Describe Western approaches to therapy and their applicability to Muslims.
Apply Islamic psychological principles in diagnosis and treatment using case studies.
Lead Instructors:
Professor Rasjid Skinner
Abdallah Rothman (IAIP Executive Director – via Video Conference)
Guest Speakers:
Dr Samir Dajani
Sheikh Saeed Nasser
Imam Shahnawaz Haque
Dr Rabia Malik
Meals and refreshments provided.
Nearest station: Sandwell & Dudley Train Station.
Nearest accommodation: Travelodge West Bromwich hotel (currently costs approx £30 per night).
Places are very limited so please book early.