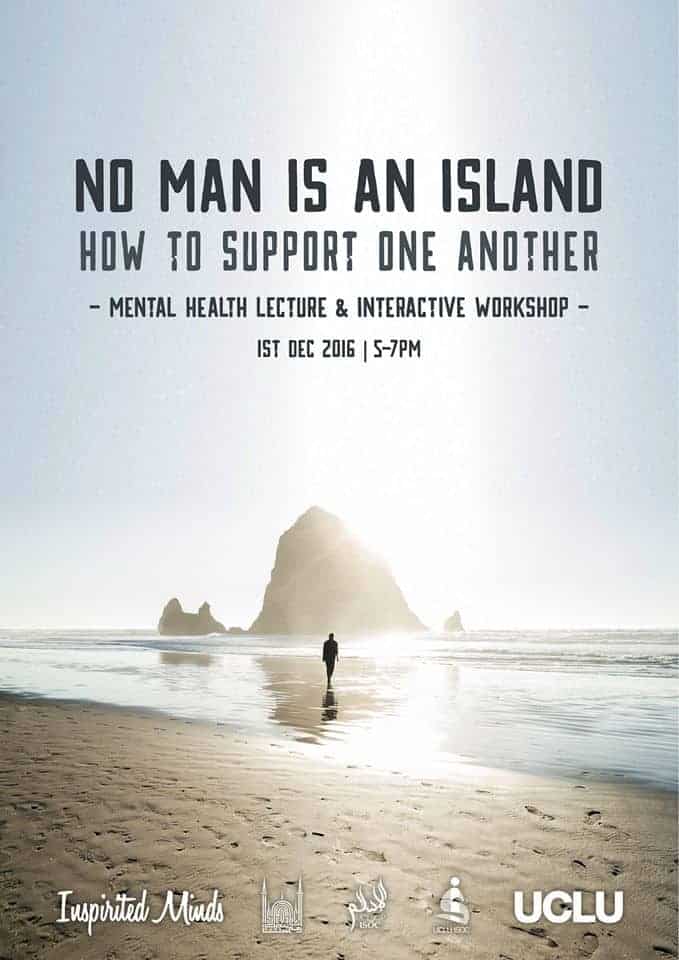 One of the problems faced by many suffering from mental health issues is isolation. This is a huge contributing factor to mental health issues, if not one of the leading factors. The saying 'a problem shared is a problem halved' is fitting in this context, to show that one of the unique blessings of the Muslim community is that we as Muslims should have our ummah and unity in order to share our problems and support each other through this. The problem is that many of our communities may not have an understanding of mental health issues, may not be aware of how prevalent they are, or it could simply be a case of not knowing what to say, how to say it, or when to say it!
And that's why we have collaborated with Inspirited Minds, a faith-based mental health charity, to bring you a personalised and much-needed lecture followed by a fun and interactive workshop:
"No Man is an Island: How to Support One Another"
Join us on the 1st December at 5pm, to increase your understanding of the impact of isolation on others, to learn about the signs in order to tell when someone might be suffering and most importantly: how to support one another.
Attendees will be provided with refreshments, and a booklet with a breakdown of the support you can provide to support a friend.
Speakers:
Mohammed Noorali Bashar
Noor first qualified as a physiotherapist before pursuing a career in medicine. He is currently in his penultimate year of medical school and has completed in Master's in Affective Disorders at the Institute of Psychology, Psychiatry and Neuroscience. He founded the Welfare Project at KCL Isoc 3 years ago and is currently the Co-President of ThinkMental.
Iman Ben Ahmed
Iman is a Mental Health activist and Inspirited Minds Client Support Manager. She holds an Undergraduate degree of Psychology from Saint Mary's University, Canada. She is a counsellor in training and is completing her MA in Counselling in London. Iman is driven to combat the stigma regarding Mental Health, and she strives to educate and raise awareness about the cause.
Farah Ahmad
Farah has completed a Bachelor's Degree at QMUL in Biology with Psychology, and a Master's Degree at LSE in Social and Cultural Psychology, and currently works at IntoUniversity. Her research interests include mental health and representations within the British Muslim community.
Akeela Ahmed
Akeela is the founder of She Speaks, We Hear. She is an equalities campaigner specialising in youth and gender issues. She has over ten years experience of supporting vulnerable individuals with complex social and mental health difficulties, providing high intensity support services to young and homeless people from diverse backgrounds, including refugees, asylum seekers, ex-offenders and BAME groups.
Sultan Hatab
Sultan is a medical student at King's College London, successfully running many welfare projects in collaboration with the Islamic Society. He is passionate about battling the stigma of mental health in Muslim and South Asian communities.
Date: Thursday 1st December 2016
Time: 5pm-7pm
Location: 26 Bedford Way, London, WC1H 0AP
Facebook Event: https://www.facebook.com/events/189564838170858