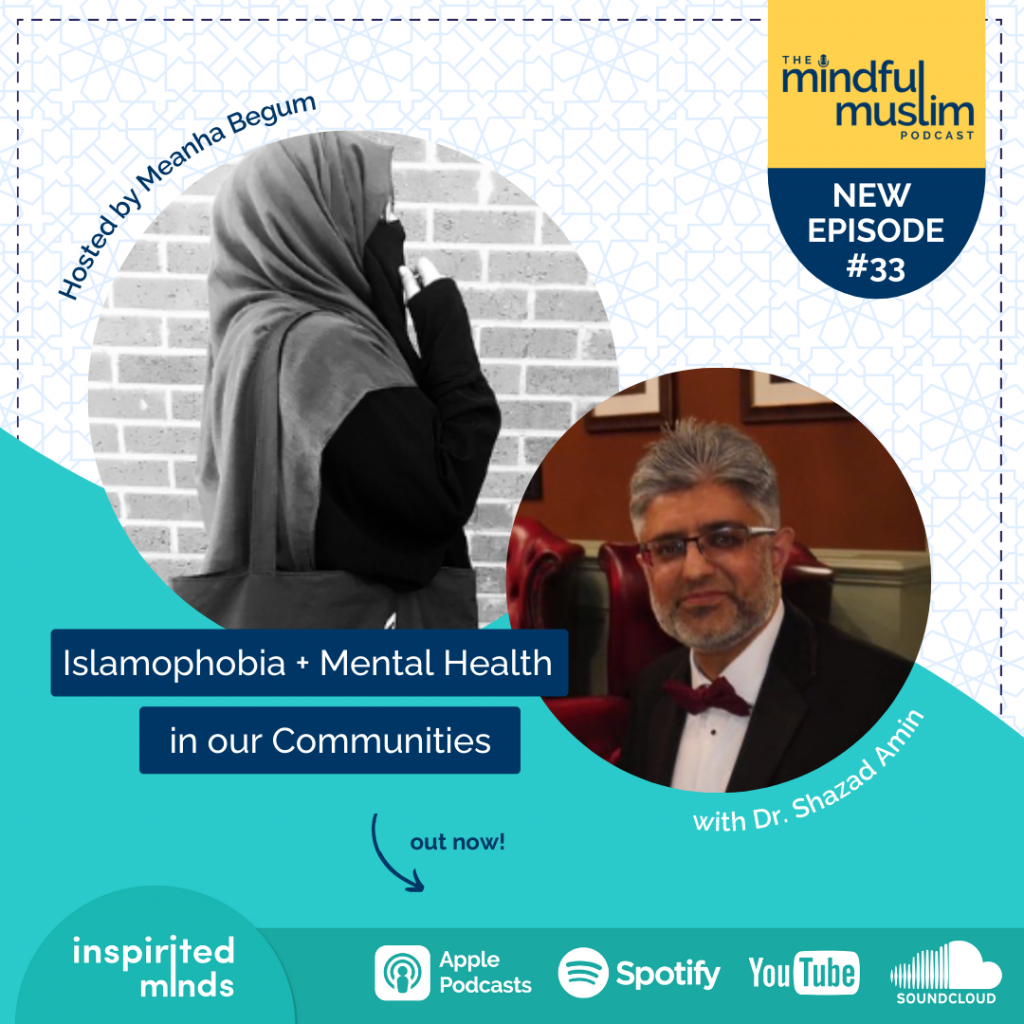 The Mindful Muslim is an Inspirited Minds podcast that hosts raw, open, and honest conversations on various topics within the sphere of mental health, psychology, Islam and spirituality.
This month, we had the pleasure of talking with Dr. Shazad Amin of Muslim Engagement and Development (MEND) UK, who is a Consultant Psychiatrist working in the NHS. He qualified from the University of Manchester and undertook his psychiatric training in Nottingham. He acts as an Expert Witness in Clinical Negligence cases, is a CQC Specialist Advisor and sits as a MPTS tribunal member.
He has previously been a Director of Medical Education in the NHS and sat on the Greater Manchester Family Justice Board trustee of MediConcern, a charity that provided health education and promotion to patients from ethnic minorities. He is also a former Trustee of ChildConcern, who provide education and training for professionals concerned with Childcare Law.
He has authored papers on psychosis, mental health and parenting and given lectures on topics such as diagnosing mental illness, depression in the South Asian culture, personality assessment, stigma of mental disorders and giving evidence in Court.
In this episode, the following was discussed:
His motivations and inspirations to join the field of mental health, and his passion for what he does
His experience working in mental health within ethnic minority communities
The mental health stigma that is still rampant in our communities, and how we can attempt to overcome it
More about MEND and the services they offer, including their response unit for Islamophobia and reporting hate crimes
You can find our more about MEND and their services, including their Islamophobia Response Unit (IRU) at www.mend.org.uk. You can also reach out to Dr. Shazad Amin on twitter @drshazadamin.
If you would like to ask us a question, suggest a topic you would like us to discuss on the podcast or even feature on the podcast as a guest, then please do get in touch with the Mindful Muslim Podcast Team at podcast@inspiritedminds.org.uk.
Support our podcast by becoming a Torchbearer for Inspirited Minds.