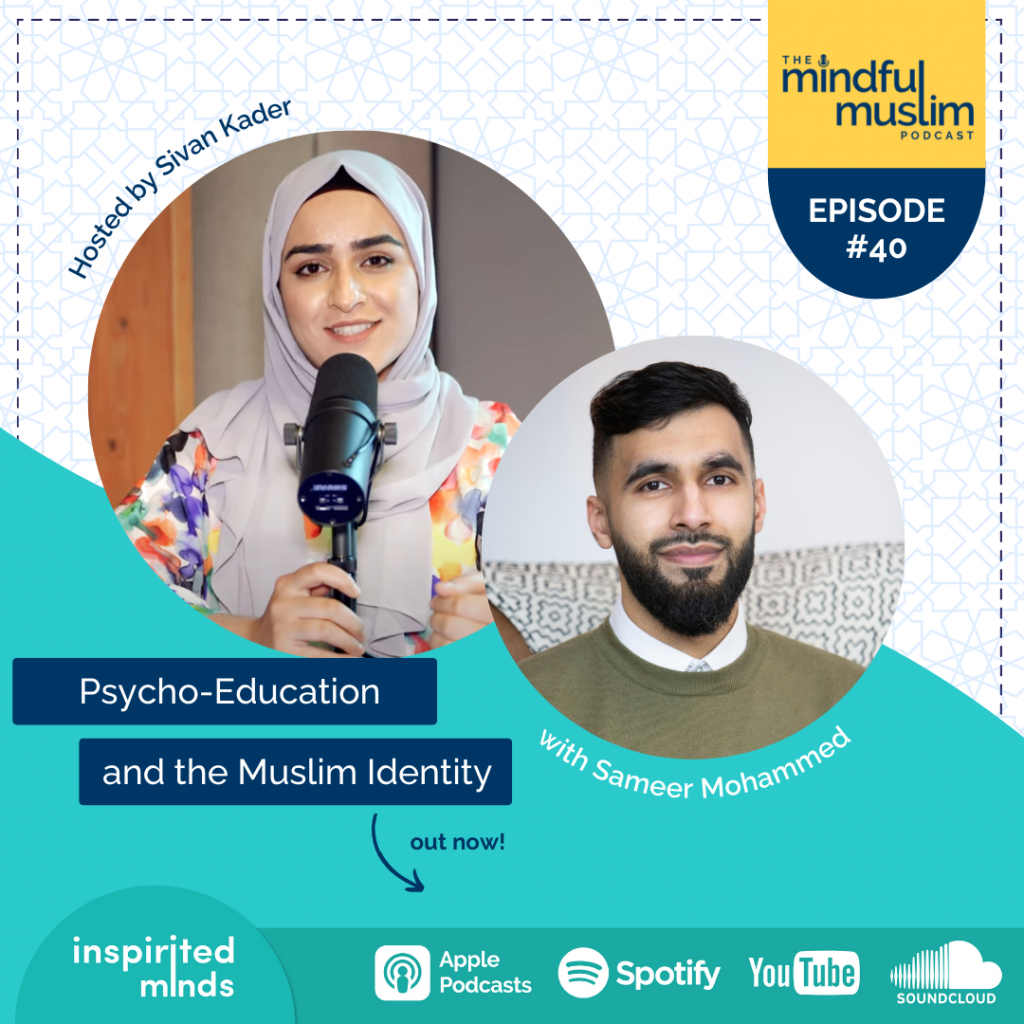 The Mindful Muslim is an Inspirited Minds podcast that hosts raw, open, and honest conversations on various topics within the sphere of mental health, psychology, Islam and spirituality.
In this episode, we spoke to Sameer, a Muslim brother who has been actively involved in community cohesion and interfaith work from a young age. This has provided him with an opportunity to enhance his skills in facilitating dialogue and discussion amongst people. In addition, he has also worked within the field of education over the last ten years, ranging from primary, secondary, SEMH and evening faith supplementary schools. As a result of working with a wide array of people in different settings and due to personal life experiences, Sameer soon came to realise the importance good mental health and the lack of support available, specifically in the BAME community. This led him to train as an Integrative Transactional Analysis Psychotherapeutic Counsellor and Islamic Psychologist.
Currently, Sameer is working in a pastoral/welfare capacity within schools and with the National Mental Health Charity, MIND, on their BAME project, which intends to encourage more people from the BAME to access counselling services. Alongside this, he is also offering counselling services through his private practice, delivering workshops for the wider community and CPD for schools and educational institutes.
They spoke about:
His training to become a counsellor and psychotherapist
The importance of having men in the field of mental health and its benefits within Islam
Reflections on therapy from a faith perspective
The Western models of psychology and mental health and how they coexist with Islam
How to use both Islam and therapy to give meaning to our experiences
How to become more aware of our social and emotional mental health needs as a Muslim
The qualities of a Muslim that coincide with being a counsellor
You can find out more about Sameer's work at www.noortherapy.co.uk, or via Instagram @noor_therapy. You can also reach him via email at info@noortherapy.co.uk.
If you would like to ask our team a question, suggest a topic you would like us to discuss one of the episodes or even feature as a guest speaker, then please do get in touch with the Mindful Muslim Podcast Team at podcast@inspiritedminds.org.uk
Support our Podcast by becoming a Torchbearer for Inspirited Minds.