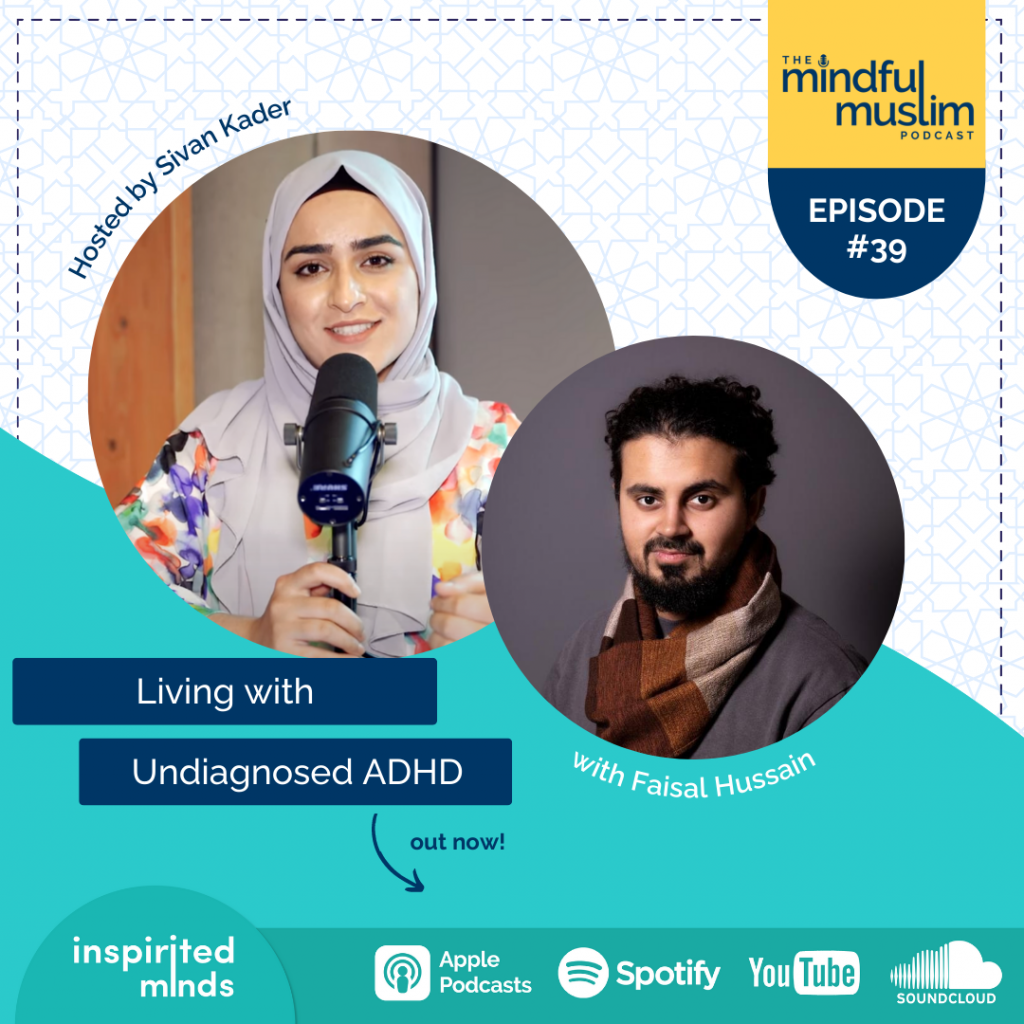 The Mindful Muslim is an Inspirited Minds podcast that hosts raw, open, and honest conversations on various topics within the sphere of mental health, psychology, Islam and spirituality.
In this episode, Sivan spoke to Faisal who is a creative entrepreneur based in Cambridgeshire and has a background in marketing, coaching/mentoring and community development. After being diagnosed with ADHD and dyspraxia in November 2021, he feels that it's now part of his duty to raise awareness about neurodiversity in the Muslim community and beyond as being undiagnosed for 26 years of life impacted his life, upbringing, education, relationships, spirituality, mental health and career.
Faisal's creativity as an artist has helped him therapeutically throughout life and he likes to show the impact it can have in wider society and his mental health. He continues to implement awareness in society about neurodiversity, most recently helping create the neurodiversity training package and support groups for staff at London Fire Brigade. He also has created social media awareness channels to raise awareness about ADHD which have received a worldwide response – especially from the Muslim community.
A video Faisal created about having ADHD in November went viral, the reaction from the Muslim world showed him the importance of raising awareness about it. He believes that Muslims need to also learn that learning difficulties are different to mental health issues however can exist and can impact them further.
Their discussion explored:
Impacts of ADHD on mental, physical and spiritual well-being and as well as social, educational and work lives
Misconceptions and stereotypes surrounding ADHD and neurodiversity
Navigating life after a late ADHD diagnosis and being able to understand childhood experiences
Regaining confidence and building self-esteem
Managing lifestyles and self-care practices to embrace ADHD
Helping others understand ADHD
You can find Faisal on Instagram @adhdvisualized.
If you would like to ask our team a question, suggest a topic you would like us to discuss one of the episodes or even feature as a guest speaker, then please do get in touch with the Mindful Muslim Podcast Team at podcast@inspiritedminds.org.uk
Support our Podcast by becoming a Torchbearer for Inspirited Minds.