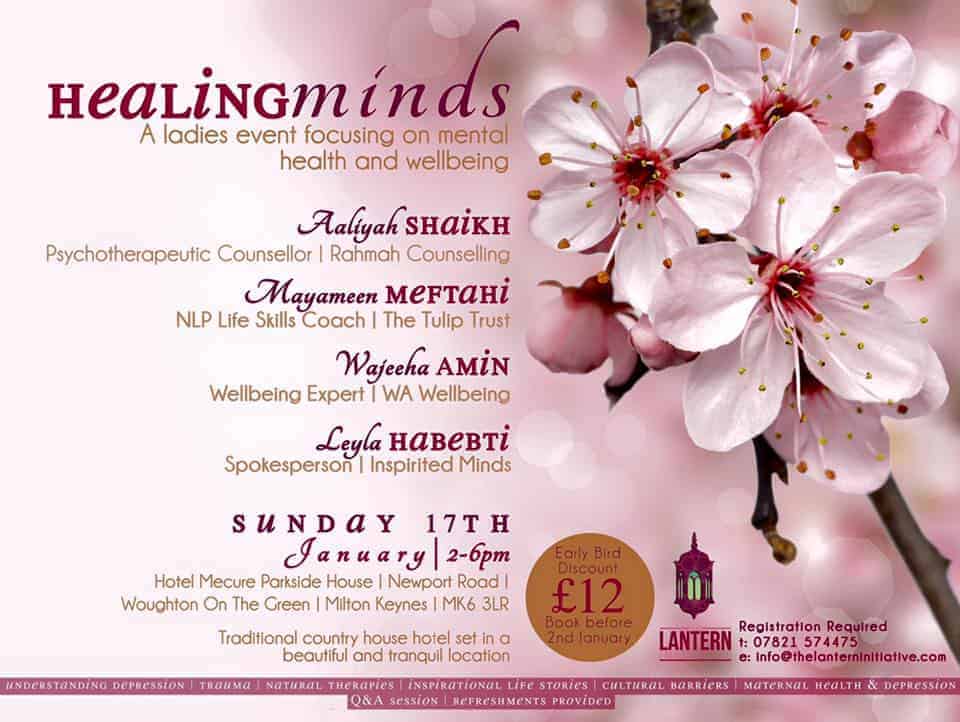 The Lantern Initiative Presents:
Healing Minds | Ladies Mental Health & Wellbeing Event
Guest Speakers:
Aaliyah Shaikh – Rahmah Counselling
Mayameen Meftahi – The Tulip Trust
Wajeeha Amin – WA Wellbeing
Layla Habebti – Inspirited Minds
Julie Lock – Inspirited Minds
Topic Areas:
Understanding Depression & Underlying Causes | Anxiety | Trauma | Natural Therapies | Coping Mechanisms | Cultural Barriers | Inspirational Life Stories | Maternal Health | Womb Psychology
Please note children will not be allowed at this event due to the sensitive nature of the topics discussed. Babies allowed at the discretion of the organisers.
Date & Time:
Sunday 17th January | 2-6PM
Venue:
Hotel Mercure Parkside House
Newport Road
Woughton on the Green
Milton Keynes
MK6 3LR
Traditional country house hotel set in a beautiful & tranquil location.
Ticket:
£12 Early Bird Discount – Book before 2nd January
Q&A Session | Refreshments Provided
To register for this event, please follow the link
e: info@thelanterninitiative.com
t: 07821 574475